OVERVIEW
DP-Master heavy weight drill pipe offers a flexible transition between the heavy rigid drill collars and flexible drill pipe.
This transition helps to reduce the number of fatigue failures seen directly above the bottom hole assembly. Another use of heavy weight drill pipe is to add additional weight to the drill bit.
DP-Master manufactures heavy weight drill pipe in standard and spiralled from 3-1/2'' OD up to 6-5/8'' OD.
Standard heavy weight drill pipe is friction welded. DP-Master also manufacture heavy weight drill pipe from an integral bar of AISI 4137H / 4145H modified alloy steel, in accordance with API / NS-1 specifications.
In addition, DP-Master offers DPM-65MS, DPM-HW90SS and IRP HWDP Grade for use in H2S environment.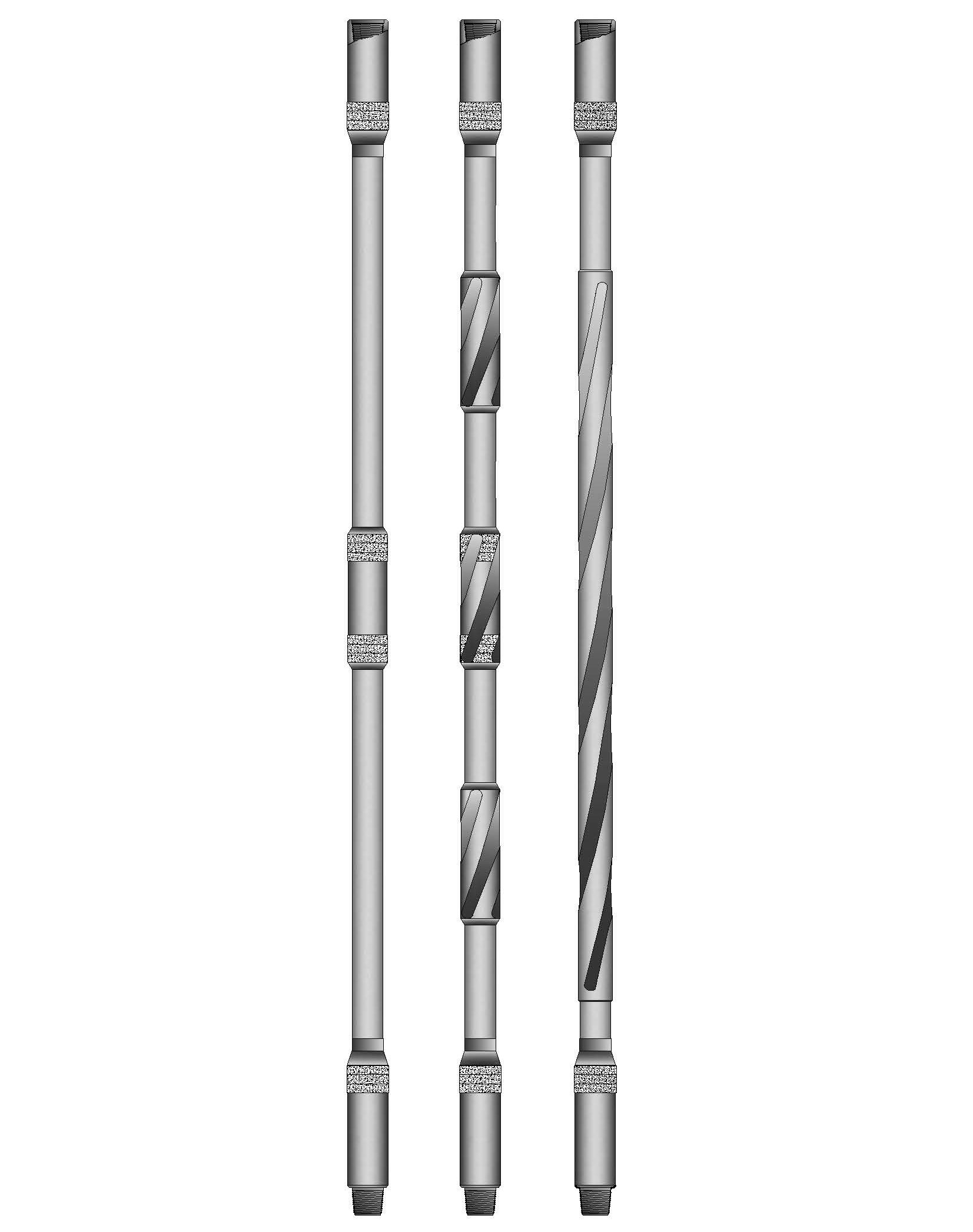 STANDARD HEAVY WEIGHT DRILL PIPE
DP-Master standard heavy weight drill pipe assembly is made up of pin and box tool joints and a heavy weight tube with center upset or wear pad.
This configuration helps to prevent stress concentration which could otherwise occur and allows directional drilling with controlled torque and reduce differential pressure sticking.
The service life of the HWDP is extended to maximize your investment by;
Providing extra-long tool joint that increases tong space which allows more connection recuts.
Reducing wear rate on tube OD through additional protection by the center upset or wear pad which keep the tube away from the hole.
DP-Master also offers DPM-HW95 and DPM-HW105 high strength welded HWDP with 95,000 PSI and 105,000 PSI SMYS tubes and 120 KSI tool joints.
SPIRAL HEAVY WEIGHT DRILL PIPE
DP-Master heavy weight spiral drill pipe handles maximum stresses induced at tough drilling environments in vertical and directional wells.
DP-Master offers two configurations of spiral heavy weight drill pipes. The pipe body can have an enlarged center section with three spiral grooves or three wear pads with spirals.
The spiral design adds following advantages;
Reduction in differential sticking
Increased weight and stiffness
Minimizes wear
Improves cutting circulation for better hole cleaning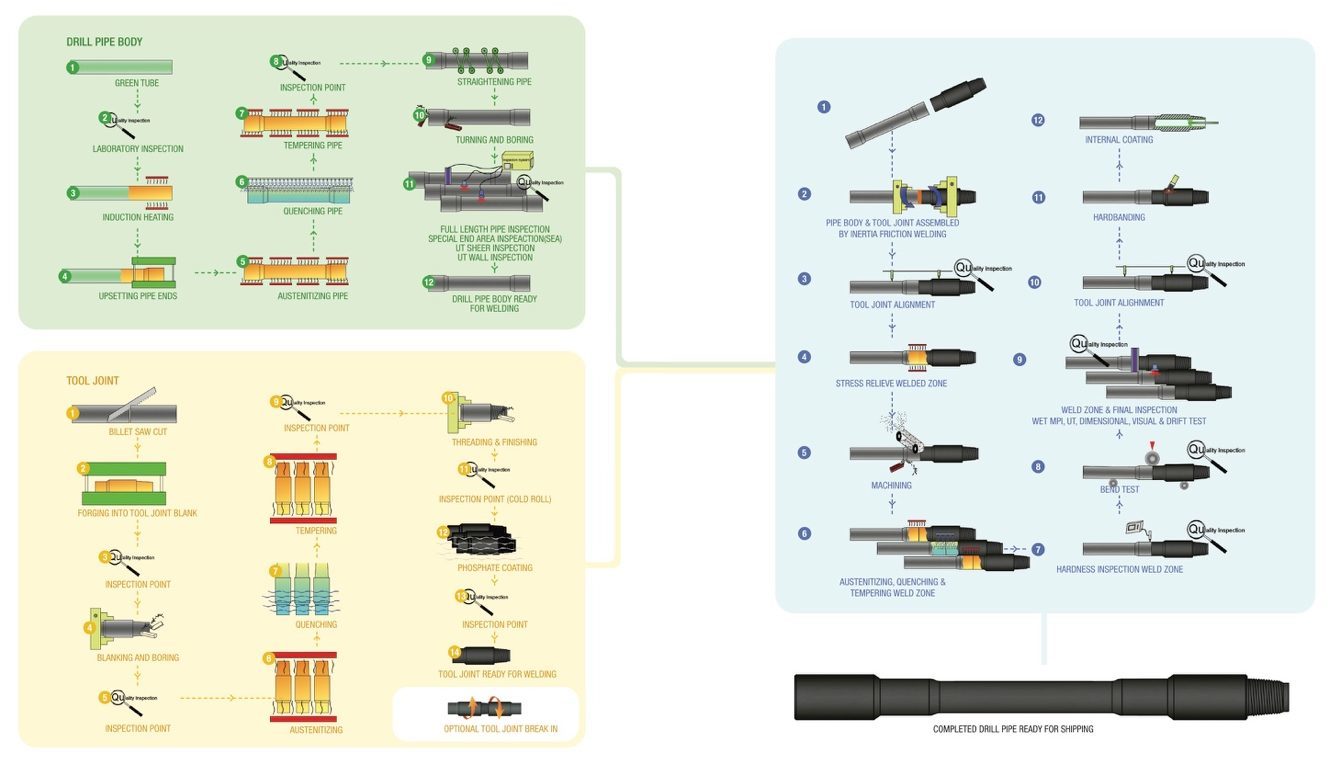 FEATURES AND OPTION
ENHANCED FATIGUE RESISTANCE
Cold rolling on the thread roots has demonstrated the beneficial effects to increase the connection's ability to resist failure from cyclic stresses on the thread roots when stiffer heavy weight drill pipe undergoes repeated severe tensile and compressive stresses at drilling operation.
Cold rolling hardens the thread roots inducing compressive stress that minimise crack forming to increase fatigue resistance.
API Bore back on the box connection or stress relief groove on the pin connection can further enhanced fatigue resistance on conventional API connections.
Phosphate coating are applied to tool joints to all threads and seal shoulders of connections to improve anti-galling and corrosion.
Make & break performed under factory controlled procedures helps ensure product consistency. This helps to save valuable rig time and cost while reducing risk of mishandling incident and rig downtime.
Hardbanding on the tool joint or wear pad extends the service life of a drill pipe. It can be applied in several configurations to suit clients' requirements.
Hardbanding is applied under closely controlled conditions resulting in a uniform, low porosity, wear resistant surface.
DP-Master also delivers smooth hardbanding with machined surface and bevels to reduce casing wear and also to reduce damage to seals in Managed Pressure Drilling (MPD) Rotating Heads.
DP-Master is authorised to apply market proven hardbanding products including ARNCO, Postle, Tuboscope, and Castolin hardbandings.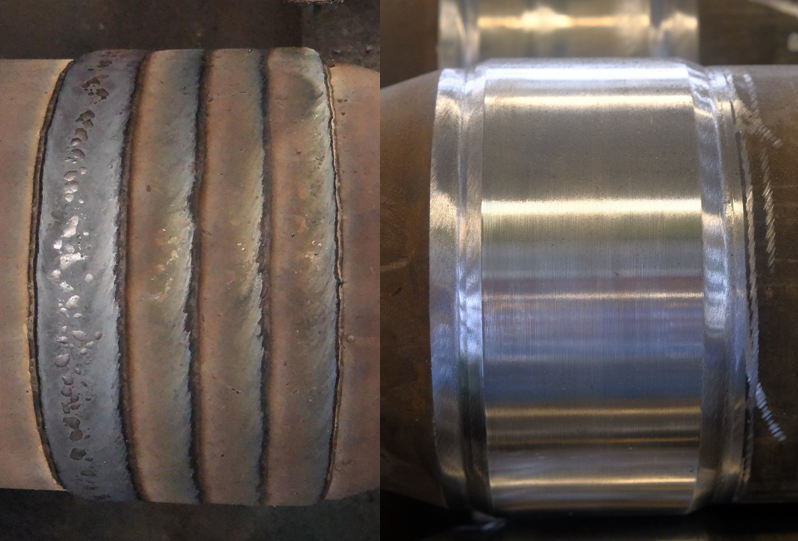 DP-Master can supply internal plastic coating according to customer requirements. The coating forms a protective layer in the pipe ID to prevent corrosion and thus extend the life span of the pipe in the drilling environment. Internal plastic coating reduces pressure loss inside the drillstring with a 15% improvement in hydraulics.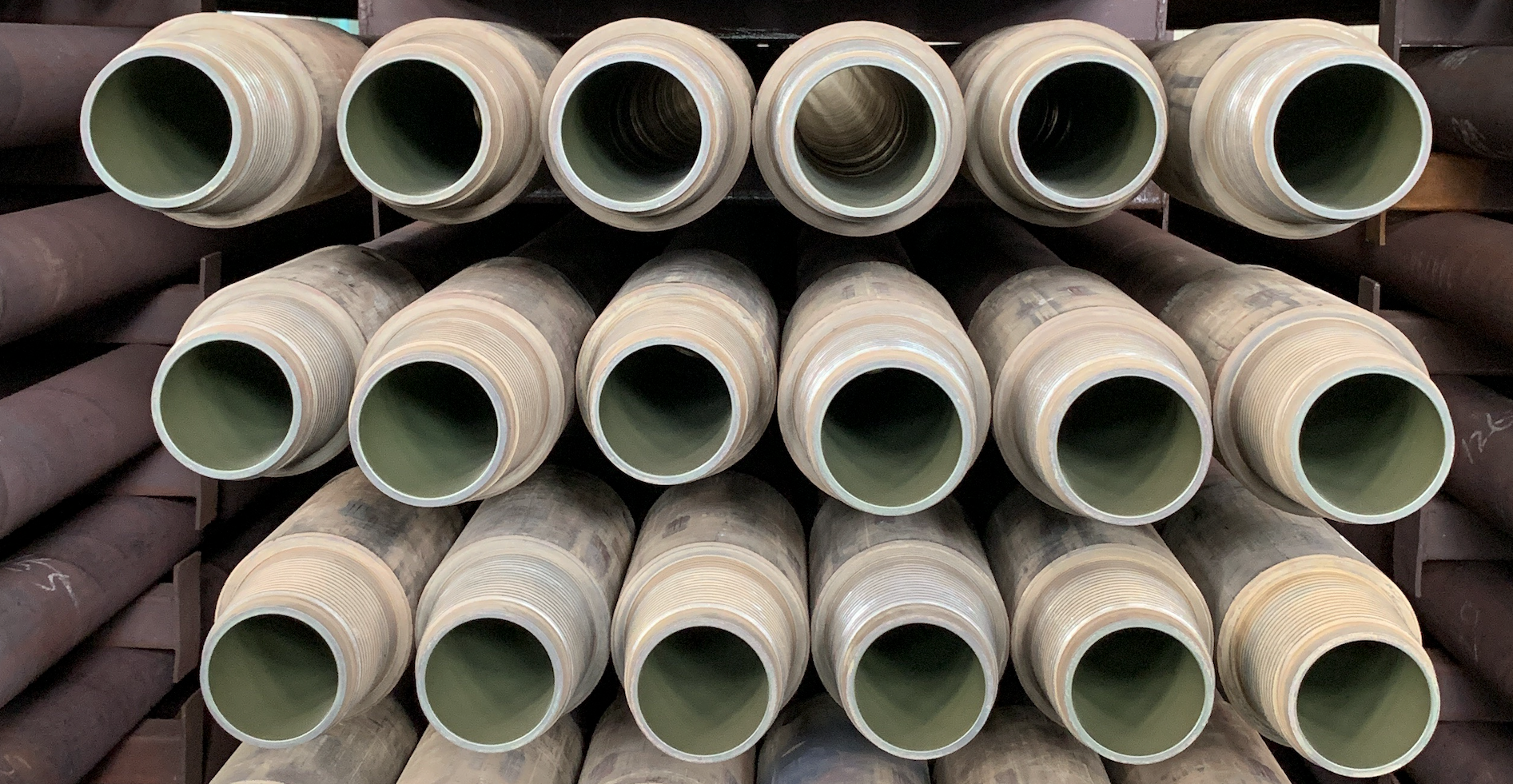 TRACEABILITY AND IDENTIFICATIONS
With an identification system, drill pipe usage can be improved based on better, more accurate data regarding the length of time each pipe has already been use.
DP-Master can perform the installation of brass tags, 2D ID tags, as well as RFID tags on all our products.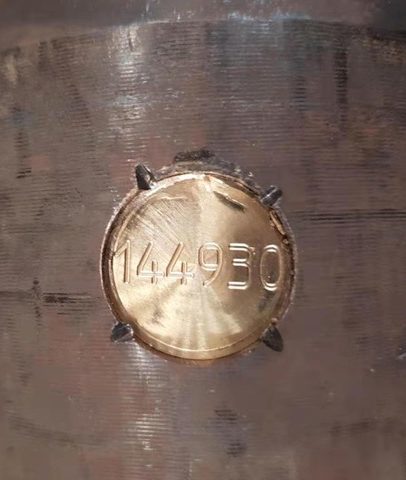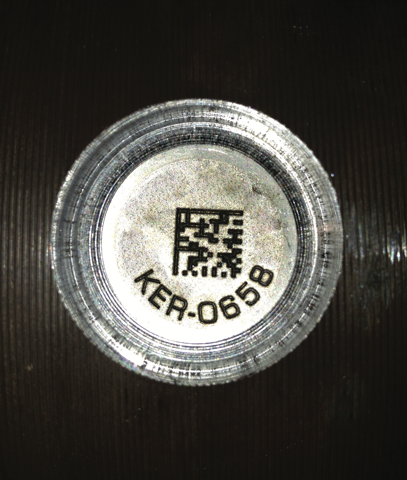 GRADES
DP-Master standard heavy weight drill pipe tube is manufactured from AISI 1340 steel or equivalent while the tool joints are supplied with AISI 4137H / 4145H modified alloy steel material.
Integral heavy weight drill pipe manufactured from solid bar of AISI 4137H / 4145H modified steel can be supplied. These materials are up to 120 KSI SMYS.
All DP-Master steel tubes are procured from reputable bar supplies with strong quality track records.
Grades suitable for Sour Service and with Higher Strength for specific application is also available.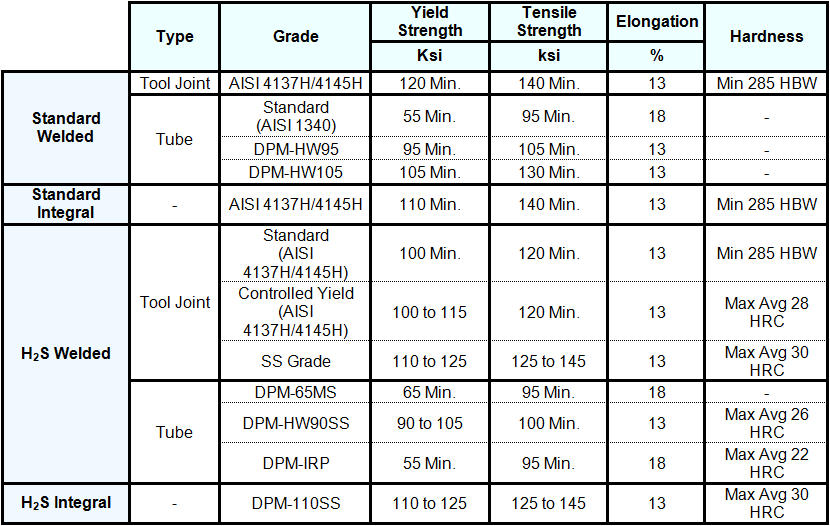 SOUR SERVICE GRADES
DP-Master proprietary sour service grades for heavy weight drill pipe offers improved resistance to sulfide stress cracking. The material has controlled yield and restricted hardness.
DPM-HW65MS is suitable for use in mild H2S environment with 65,000 PSI SMYS tube and industry-accepted API tool joint with specified minimum yield strength 100 KSI.
DPM-HW90SS has a controlled yield strength tube (90 to 105 KSI) with restricted hardness. The tube undergoes NACE ™-0177 Method A test at 85% of the specified minimum yield strength and offers optimum resistance to fatigue cracking and crack propagation. The tool joint has a controlled yield (100 to 115 KSI) with restricted hardness.
IRP GRADE WHWDP is designed based on IRP 1.8 specifications and has a minimum yield strength of 55 KSI and restricted hardness for the tube. The tool joint undergoes NACE ™-0177 Method A test at 65% of the specified minimum yield strength thus providing greater resistance to sulphide stress cracking.
DPM-110SS grade material is used for integral heavy weight drill pipe solutions. Manufactured using a forged solid bar, DPM-110SS is able to withstand NACE ™-0177 Method A test at 65% SMYS.
Customised grades are also available based on customer's requirements or specifications.

HIGH STRENGTH GRADES
DPM-HW95 and DPM-HW105 high strength welded HWDP with 95,000 PSI and 105,000 PSI SMYS tubes and 120 KSI tool joints and integral HWDP are suitable for higher strength usage requirements.